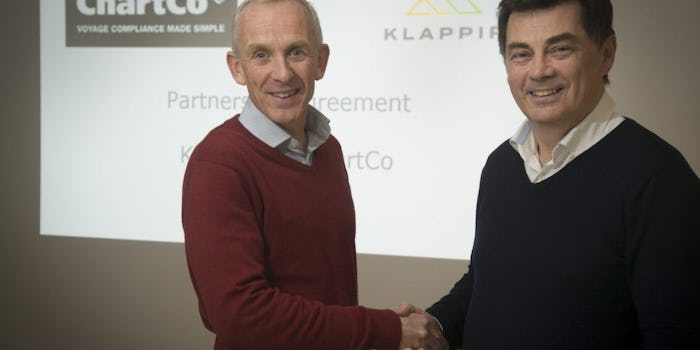 Announcing the Collaboration Between Klappir and ChartCo
Klappir Green Solutions and ChartCo signed a cooperative agreement yesterday. The two companies will work in close collaboration on offering international merchant shipping companies digital logbooks and various software solutions for collecting environmental data and ensuring legal compliance.
ChartCo is global leader for selling and distributing digital solutions for sea vessels and fleets. ChartCo's aim is to facilitate all sea vessel operations and simplify ship management by providing a wide array of digital solutions for fleet management, navigational guidance, legal compliance, and safety. At the present time, ChartCo services around 10.000 ships globally.
Klappir is in the vanguard for designing smart environmental management solutions, which include digital logbooks. Klappir works hard to create cutting-edge solutions and services that ensure legal compliance, lower operational expenses, increase profits, and minimize the release of pollutants into the atmosphere.
Martin Taylor, the CEO ChartCo Ltd.:
We're very pleased to have started working with Klappir. They design cutting-edge environmental solutions that are a great addition to our variety of products for sea vessels and fleets. We are looking forward to introducing our clients to digital logbooks and other related products and in that way preserve our status as a global leader for digital solutions for ships.
Jón Ágúst Thorsteinsson, the CEO of Klappir, says:
"Our collaboration with ChartCo marks an important step for Klappir as we now enter international markets. Chartco is a global leader for selling and distributing digital solutions for sea vessels and fleets. The standards for environmental data and legal compliance on international seaways are very high, which is an ideal beginning test for the international distribution of our environmental solutions. We hope that the agreement will greatly increase our revenue."