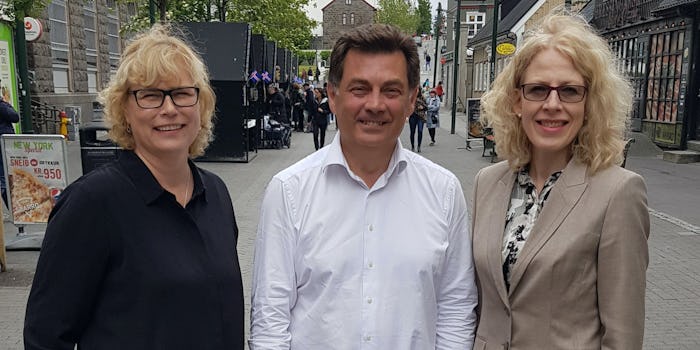 The Merging of Klappir and Stiki
The merging of the two software development companies boosts further development of Klappir's sustainability and environmental solutions and fuels the company's entrance to international markets.
Klappir has signed a merging agreement with Stiki ehf, another prominent Icelandic software developing company. Klappir and Stiki have long enjoyed a fruitful collaboration and predict that the merging will creat many more advantages. Klappir will take over the management of Stiki and the owners of Stiki in return receive stock in Klappir. After the merging, Klappir now has a staff of around thirty people.
Stiki has for years focused on software development in the field of risk assessment and information safety, as well as providing health evaluation and other services in the healthcare sector. Stiki's software solutions will be added to Klappir's already impressive selection of products. The goal is to use information technology to spur further innovation in the field of environmental and climate management. The merging also facilitates the international distribution of the companies' software solutions; all the solutions work toward the United Nations' sustainability development goals.
Jón Ágúst Þorsteinsson, CEO of Klappir Green Solutions:
"Risk analysis, risk assessment and risk management are some of the key climate factors as well as health evaluation. It's great news that Klappir and Stiki are merging because we can now address all climate issues. I'm looking forward to working with the powerful team at Stiki."
Svava Helen Björnsdóttir, CEA and founder of Stiki:
"The merging of Klappir and Stiki will further advance Icelandic innovation in the field of sustainability solutions and give to them further momentum internationally. I'm eager to participate in developing and building the company after the merging. We have big plans for the future and we know that there are many opportunities for growth. The climate issues are perhaps the biggest challenge facing humanity and I'm looking forward to integrating our risk solutions with the Klappir environmental solutions."
Further information about Stiki:
The IT company Stiki was founded in 1992 and is a leading company in the field of risk assessment for businesses. For years Stiki has developed software for risk analysis, risk assessment and risk management, and has worked with universities and research institutes in Europe and North-America in developing new methods for risk assessment. The company offers complete solutions as well as consultation for integrating ISO management systems, especially in the field of information safety. Stiki has also developed solutions for health evaluations, so-called RAI health evaluation systems, now used nationwide in Iceland. Stiki has clients in more than 20 countries.