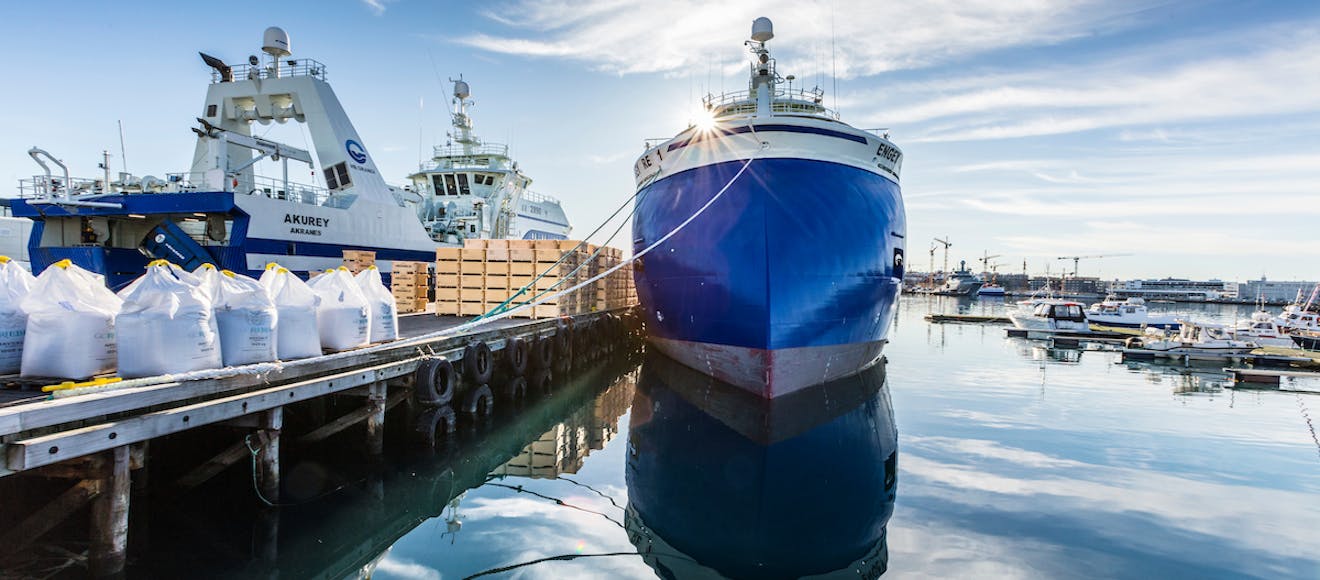 Pioneers in Environmental Transparency
As one of Iceland's largest seafood companies, Brim is committed to showing the greatest respect for the marine ecosystem at all times while ambitiously reporting on its environmental impact.
Part of Brim's corporate social responsibility policy entails ambitious reporting on Environmental, Social, and Governance factors, and a transparent, honest approach to discussing and dealing with climate change and marine health. The company has published outstanding ESG reports with Klappir since 2015––here is the 2018 sustainability report––and has, in a span of just few years, made exemplary progress in systematically reducing the environmental impact of the company, as is reflected in the reports.
There are many indicators that conditions in the ocean are changing rapidly for the worse and that the acidification of the sea, global warming and other environmental factors will continue threatening ecosystems of both sea and land in the near future. Brim is well aware of this menace to its enterprise, and makes every possible effort to respect Iceland's national resources and operate responsible fisheries, for the benefit of future generations.
The Challenge for Brim
When Brim began its extensive environmental management effort in 2015, the company was looking for sustainability solutions that would:
gather data covering Brim's environmental footprint in its totality,
help crews comply with international and national maritime environmental regulations,
allow the company to share its progress with stakeholders.
To expand, Brim wanted to reduce its environmental footprint, which would also greatly diminish the company's operational costs; Brim wanted to improve its recycling project, which would also reduce operational costs; Brim wanted to ensure and facilitate legal compliance; and, last but not least, Brim wanted to thoroughly report on its progress in a transparent and reliable manner.
Brim Highlights
11,3% reduction in greenhouse gas emissions between 2015-2019.
78% of all waste sorted.
Ability to trace carbon footprint of all catch.
2017 Environmental Award of The city of Reykjavik and Festa.
2019 Environmental Award of SA Confederation of Icelandic Enterprises.
The Solution for Brim
Rather than relying on estimates, Brim wanted accurate, real-time information that could be shared with customers, stakeholders, and the community alike.
As one of the pioneering companies to adopt the unique Klappir sustainability management platform, Brim began using it to record its emissions of greenhouse gases, while setting goals to better manage its energy resources. The results speak for themselves: In a span of just five years, Brim's environmental impact has been drastically reduced; the carbon footprint shrank by 11,3%, even as the operation grew in size. Brim's legal compliance has also been greatly simplified through using centralised digital logbooks, which can be accessed both at sea and on-shore.
Brim now uses Klappir EnviroMaster to collect environmental data both automatically and manually and generate detailed ESG reports; Klappir LogCentral to fill out digital record-books (LogCentral) and electronically order bunker; and Klappir HouseMaster to preserve a comprehensive overview of all use of electricity, as well as hot and cold water.
Says Guðmundur Kristjánsson, CEO of Brim, "The Klappir solutions gather both operational and environmental information, so that our employees can now monitor the use of fuel, electricity, hot and cold water, waste-sorting, and other such environmental aspects, at sea and on-shore, in real time and over longer periods. You can just image how useful, and practical, these tools are for us."
As Brim sells most of its catch to international markets, the competitive advantage of the company relies on the products' clean value chain. Brim now has the data to exactly trace the carbon footprint of each catch.
Award-Winning Results
In 2017, The city of Reykjavik and Festa acknowledged Brim's exemplary environmental management and accounting with a special award; the same award that Klappir would go on to receive the following year. The citation specifically mentioned Brim's carbon accounting, which reported a 5% reduction in greenhouse gas emissions between the years 2015 and 2016, the company's waste sorting stations, and Brim's decision to completely stop using heavy fuel oil.
In 2019, Brim was awarded the Environmental Award of SA Confederation of Icelandic Enterprises. Said the jury, "Brim has a firm environmental policy. The company emphasises its corporate social responsibility and respect toward the living world and has worked to digitally map the environmental impact of its operation. Brim has clear goals and criteria to measure its results, reduce waste, and better manage resources. Brim has also systematically reduced its greenhouse gas emissions, and strategically invested in new sustainability technology and improved vessels."