The Future of Legal Compliance
Eimskip uses Klappir SeaMaster to better manage all their environmental data.
Leader in on-board digitalisation
Eimskip has been one of the key corporate players in modern Icelandic history from its founding in 1914, connecting the country to the rest of the world with its expansive transportation systems. As the economic activities of the world quickly shift toward sustainability, more responsible use of resources, and transparent ESG reporting, Eimskip therefore naturally claims a significant role within the Icelandic economy. This is strongly reflected in the company's ambition to adopt cutting-edge modern technology to monitor, and report on, its emissions and sustainability goals.
In 2014, Eimskip was one of the first companies in Iceland to initiate the use of Klappir's smart environmental management platform, which entailed collecting various environmental information digitally, and constructing a more comprehensive and reliable picture of the company's carbon footprint than had hitherto been possible. Eimskip also began publishing ESG reports in 2015. (Here is the Eimskip 2019 ESG Report.)
Between 2015 and 2019, Eimskip's carbon footprint shrank by 14,2%, a direct result of the focused effort to reduce emissions, which included the digitisation of on-board registration and legal compliance.
Eimskip Highlights:
14,2% reduction in greenhouse gas emissions between 2015-2019.
Among the first transportation companies in the world to initiate the use of digital record-books.
Automated processes eliminate manual errors, enable trustworthy inventory accounting and provide constant actionable information on performance.
Eimskip uses Klappir EnviroMaster for ESG Reporting
Eimskip uses Klappir SeaMaster on-shore for energy efficiency – MRV and DCS Reporting
Eimskip uses Klappir LogCentral – on-board digital log books for Marpol Annex I-VI
The Challenges for Eimskip
Eimskip wanted a solution that would:
1. not only provide the company with a comprehensive overview of its energy intensity and carbon footprint,
2. but also help Eimskip ensure that its vessels comply with local, regional and international maritime environmental regulations,
3. and free the valuable operational data stranded in countless paper reports and files.
All Eimskip crew must record a wide range of information, but entering that information in multiple logbooks using pen and paper was time-consuming and inefficient. Printed information was also difficult to share. The valuable data contained in thousands of reports was inaccessible and not easily available for analysis. Additionally, frequent visits by the officials who enforce the regulations took time from crew members' regular duties.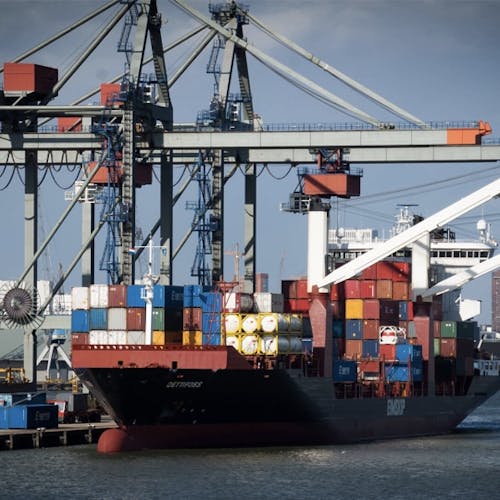 The Solution
In 2016, Eimskip began using the Klappir sustainability solutions which gave the managers a comprehensive overview of Eimskip's energy intensity and environmental sustainability
Says Eyþór H. Ólafsson, Safety and Security Manager at Eimskip, "Klappir's software solution offers real-time monitoring of operational performance and exposes the environmental impact of our business. It identifies non-financial factors that influence the footprint of our value chain. We have, in no small part thanks to the Klappir sustainability platform, been able to reduce emissions and waste, and to optimise the environmental sustainability of the entire operation."
The Klappir sustainability platform collects data and automatically streams it from the point of origin to a data warehouse where it can be processed into reliable information for the whole organisation. The solution thus supports decision-making at all levels, enabling Eimskip to provide transparent and reliable environmental information to stakeholders.
Eimskip currently uses Klappir EnviroMaster to make yearly Sustainability Statements (ESG). Data on fuel consumption, electricity consumption, and the use of hot and cold water are automatically collected, and the origin of data can then be traced back to the supplier.
Says Falasteen Abu Libdeh, specialist at Eimskip, "We believe that Iceland should be a leading player and take a progressive approach to environmental issues. The Icelandic state set a great example when the Environmental Agency of Iceland approved Klappir's digital record-books in 2018 and we are proud to be among the first transportation companies in the world to use digital record-books. Facilitating fast and easy access to operational data is an urgent environmental issue."
Read an interview with Falasteen on the Klappir Blog. (In Icelandic.)