Together We Can Make a Difference
Protecting, Sustaining, and Regenerating Our Natural Resources for the Future
Our data-driven digital eco-system is about connecting players both small and large across the world so we all can better protect and manage our shared resources together.
Leading the Way in Carbon Footprint Reporting
Smart Sustainability Management Is the Inevitable Way Forward
Klappir Green Solutions is a driving environmental force in Iceland, having created a leading sustainability management solution which is now in use across the country as well as internationally.
Our customers include companies in aviation, automotive, fishing, financing, education, energy, tourism, and waste management, as well as institutions and municipalities. All these organisations have already derived significant benefits from using Klappir's smart sustainability management platform; lower carbon footprints, transparent and reliable ESG reporting, as well as operational savings and better compliance to environmental laws and regulations.
The strong track record Klappir has earned places us in a leading position to guide the oncoming evolution of carbon emissions accounting and reporting. The Klappir sustainability management is growing naturally from Iceland to other countries, as countries around the world establish legal compliance requirements according to the Paris Climate Accord, and the stricter regulations are compelling companies to make greener business decisions, in the aim of improving our world.
Says Sigrún Hildur Jónsdóttir, CSO and Co-Founder of Klappir, "We passionately care for the environment and are committed to building software solutions and providing advisory services that create an ecosystem, enabling organisations, municipalities, and governments across the world to execute transparent and reliable sustainability accounting in a cost-efficient way."
What does Klappir do?
We develop software solutions for effective sustainability management
We assist our clients with doing environmental statements and ESG reports by providing both expertise and software
We do everything we can in order to protect, sustain, and regenerate our natural resources for the future
We develop, grow, and maintain Klappir's digital eco-system which connects businesses, organisations and municipalities across different sectors so that we can all collaborate on best managing our shared resources
The Klappir Story
Creating a Digital Eco-System
The recipient of the Festa and the City of Reykjavík Environmental Award in 2018, Klappir has become a driving force in the sustainability transformation of the Icelandic economy, helping both domestic and international companies to drastically reduce their footprint and deliver standardized environmental accounting.
How We Started
In 2016, we set out with the goal of developing and launching a digital platform equipped with a variety of sustainability solutions by the beginning of 2020, when the Paris Climate Agreement would come into effect.
A lot of hard work, and the incredible support of our many Icelandic clients, has helped make this dream a reality: Klappir has created a series of leading sustainability solutions that interact on the same platform, are both scalable and ready to grow naturally internationally as more and more countries move toward a circular economy and sustainability management, due to both increased environmental awareness and enhanced legal obligations.
A Growing Digital Network
Klappir's unique sustainability management solutions have already created a robust network of Icelandic companies and data suppliers that work together on better managing the nation's resources, and we are busy setting up networks with international partners to further spread our solutions.
Worthy Goals for the Future
Klappir's long-term objectives are to bring knowledge and cost-efficient sustainability solutions to the global market from our solid Icelandic domestic market.
The sustainability transformation of our economies, from a linear to a circular system, demands creative collaborations that start moving together toward a prosperous, green future, and we want to help protect, sustain, and enhance natural resources for the future.
Our Mission, Vision, & Values
Our mission is to make industry leading sustainability management software solutions affordable for all.
Our vision is to create long-term, quantifiable sustainability value for societies using our software solutions.
Our values include frugality and wise use of natural resources. We are responsible towards all our stakeholders: our teams, our customers, our investors, our society, and the whole natural world.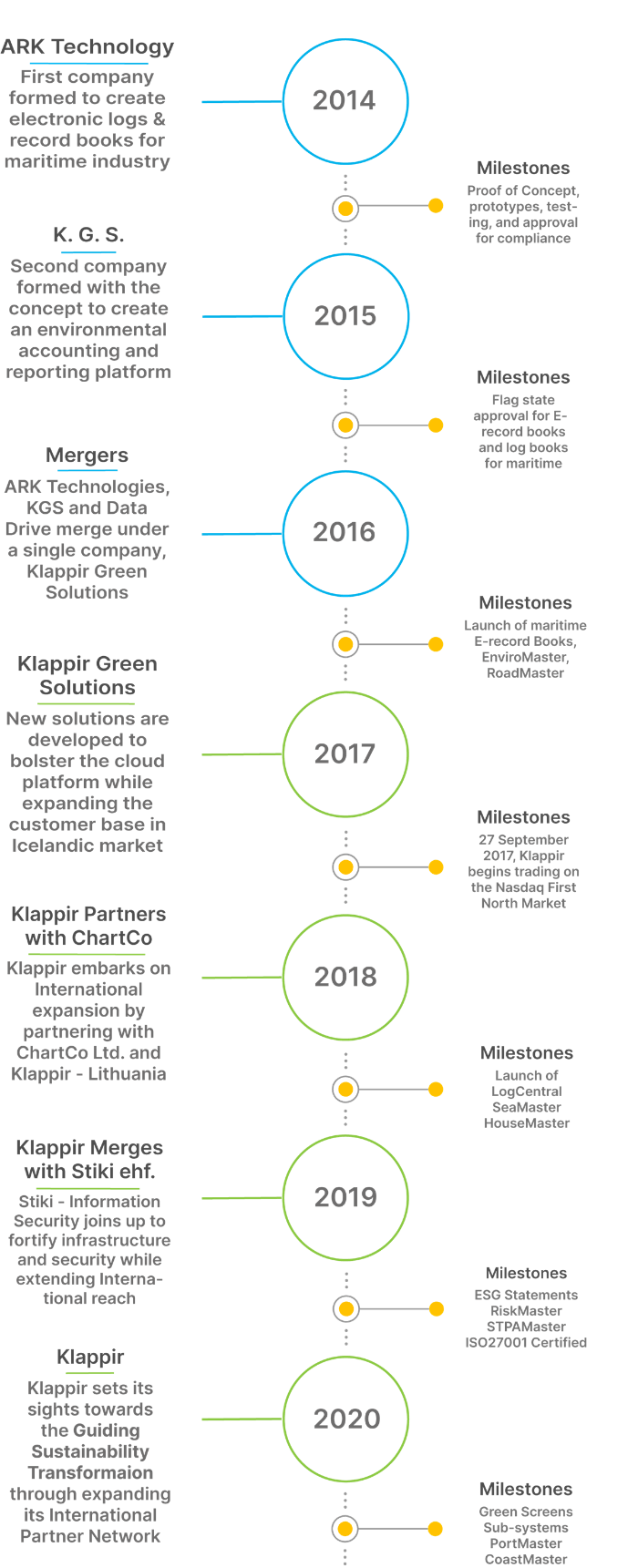 The Klappir Methodology
The Klappir software is adapted to international frameworks and environmental law, such as the Greenhouse Gas Protocol, ISO 14001, ISO 26000, ISO 27001, MRV and MARPOL Annex I-VI which ensures that customers' environmental reporting is standardised and comparable across markets and countries.
The recipient of the Festa and the City of Reykjavík Environmental Award in 2018, Klappir has become a driving force in the sustainability transformation of the Icelandic economy, helping both domestic and international companies to drastically reduce their footprint and deliver standardized environmental accounting.
Here is a list of some of the ideas and drivers behind our solutions:
Sustainability is Key to a Thriving Business
Increasingly, investors are demanding to see detailed environmental accounting from the companies they are planning to invest in. Those who lag behind on environmental reporting will not have easy access to financing in the future.
The Paris Climate Agreement
The Paris Agreement central aim is to strengthen the global response to the threat of climate change by keeping a global temperature rise this century well below 2 degrees Celsius above pre-industrial levels and to pursue efforts to limit the temperature increase even further to 1.5 degrees Celsius.
In 2020, the Paris Agreement takes over the Kyoto II agreement, resulting in increased pressure on businesses and governments to deliver on their commitments prior to 2030.
The Klappir Platform provides our customers with a product family of solutions that would support businesses and government bodies on every level of their journey toward sustainability and the Paris Agreement goals.
The UN Sustainable Development Goals
The thinking behind Klappir's sustainability solutions is aligned with the UN Sustainability Development Goals.
The 2030 Agenda for Sustainable Development, adopted by all United Nations Member States in 2015, provides a shared blueprint for peace and prosperity for people and the planet, now and into the future. At its heart are the 17 Sustainable Development Goals (SDGs), which are an urgent call for action by all countries - developed and developing - in a global partnership.
The Greenhouse Gas Protocol
Klappir's approach to smart sustainability management uses The Greenhouse Gas Protocol as a point of reference. The GHG Protocol is the most widely used international accounting tool for government and business leaders to understand, quantify, and manage greenhouse gas emissions.
Simply put, The GHG Protocol collects the standards, guidelines and tools for accounting and managing GHG emissions.
Contact us today.
We're always happy to set up a free demo of our solutions.